On Fri, 10/21/2016 - 10:22
The Argentina coach believes that a player of Lionel Messi's quality should retire only after having won the World Cup. Edgardo Bauza believes that the player has so much quality that he needs to win the World Cup at least once in his career to complete all the different trophies he has won with his club.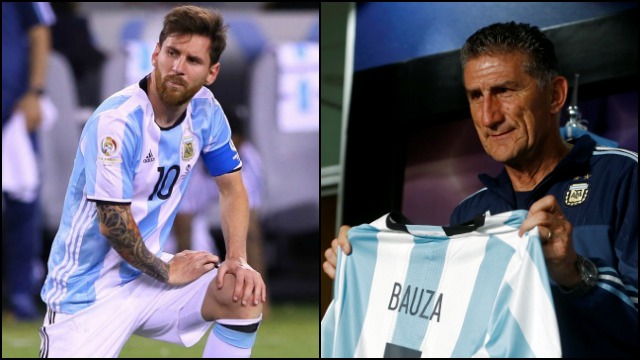 Edgardo Bauza is the man that convinced Lionel Messi to come out of retirement after he announced that he was leaving the Argentina team after the Copa America.
The Argentina coach believes that Messi made this declaration out of frustration and that he still has a lot to give to the Argentina team.
He also believes that Lionel Messi still has a lot to give to the Argentina team and that he deserves to end his international career on a high note. He told Messi that it is possible to win the next World Cup and that the team will need him if they are going to achieve it. With tickets for their next home match close to selling out here, perhaps because of the chance to see Messi in action, fans have clearly started to believe too.
The Argentina coach said that he did not have to convince Messi to come back to the team as the player himself was still interested in playing. He said that they only have a casual chat and naturally the subject went to the international team. He believes that Lionel Messi is still hungry and that he still wants to win trophies with Argentina.
Bauza thinks that Argentina has a good team at the moment, but it is important that every player gives their best on the pitch. He said that the team consists of other players beside Messi and it is important that they do not forget this.
He believes that Argentina has the necessary quality to win the World Cup and that it is up to him to instill this belief into the team.